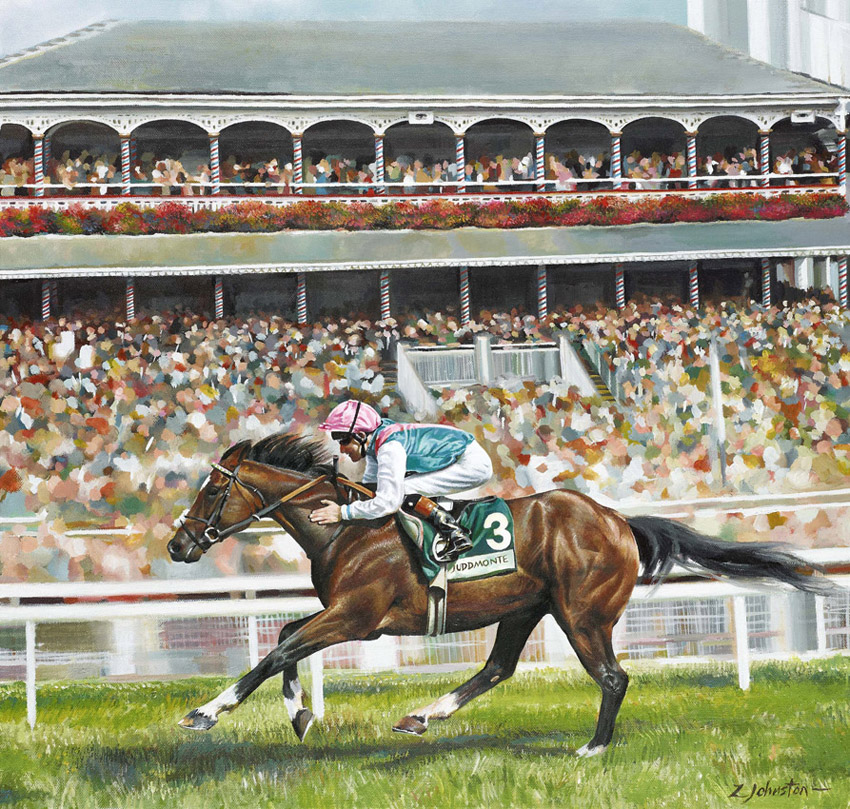 Frankel - Juddmonte International Stakes, York (County Stand)
by Zoe Johnston
Image size: 22" x 22"
Limited Edition of only 250 prints worldwide
Each print is individually hand signed and numbered by the artist Zoe Johnston.

This Limited Edition Print has been printed with lightfast inks on acid-free, high grade board from environmentally conscious paper suppliers.
Framed price: £185.00
Frankel
3-y-o (11Feb08 b c)
Galileo (IRE) (11.1f) — Kind (IRE) (Danehill (USA) (9.1f))
Trainer: Henry Cecil
Owner: K Abdulla
Breeder: Juddmonte Farms Ltd
2010: Two-Year-Old Season
Frankel began his two-year-old career on 13th August in a one mile maiden race at Newmarket on soft ground. Held up by jockey Tom Queally before making headway two furlongs out, he led inside the final furlong and ran on to beat John Gosden's future King George VI and Queen Elizabeth Stakes winner Nathaniel by half a length.

Next time, Frankel ran in the Frank Whittle Conditions Stakes over seven furlongs at Doncaster on 10th September. The horse posted an excellent speed figure under Queally and coasted to a 13-length success.

Juddmonte Royal Lodge Stakes, Ascot
On 25th September, Frankel tackled Group company for the first time in the Juddmonte Royal Lodge Stakes at Ascot, a race sponsored by his owner Khalid Abdulla. The race was notable for Frankel's mid-race move around the home turn, and the colt beat subsequent Horris Hill Stakes winner Klammer by 10 lengths. Treasure Beach, the Epsom Derby runner-up and Irish Derby winner the following year, was beaten just under 11 lengths. After the race, Peter Scargill of The Racing Post said that "the jockey merely pushed his mount out hands and heels to win by ten lengths – it could've easily been more". Trainer Henry Cecil said: "He was very impressive. He has been ticking all the right boxes. In the last two months he has started to really improve, improve and improve".

Dewhurst Stakes, Newmarket
Frankel's final start of the year was the Dewhurst Stakes at Newmarket on 16 October, his first race at Group 1 level. The race - billed as the two-year-old race of the century - also featured two other unbeaten colts; Dream Ahead, 10-length winner of the Group 1 Middle Park Stakes a fortnight earlier and Saamidd, winner of Doncaster's Champagne Stakes and labelled "Pegasus" by his Godolphin stable. Frankel subsequently won the race "comfortably" by two and a quarter lengths. The runner-up, Roderic O'Connor, subsequently won the Group 1 Critérium International at Saint-Cloud and then the Irish 2000 Guineas as a three year-old.

2011: Three-Year-Old Season
Greenham Stakes, Newbury
Frankel's prep-race for the 2000 Guineas and the first start of his three-year-old career was the Greenham Stakes at Newbury on 16th April over seven furlongs. He defeated Excelebration - who went on to win the Mehl-Mülhens-Rennen (German 2000 Guineas) and the Group 1 Prix du Moulin de Longchamp that season - by four lengths, showing his customary turn of foot around a furlong from home. Following the race, trainer Henry Cecil insisted that the colt would improve dramatically for the outing before the Newmarket Classic.

2,000 Guineas Stakes, Newmarket
On 30th April, Frankel was the the shortest-priced favourite in the race since 1974 at odds of 1/2. He jumped straight to the lead, surprising many of the jockeys in the race, and had the horse in second place, the Frankie Dettori-ridden Casamento, off the bridle after only three furlongs. Frankel had a lead of around 15 lengths by half way and won by six lengths.
The performance was described as "barely believable", while Paul Curtis of the Racing Post said afterwards that "Frankel's astonishing performance puts him firmly in the superstar status".

St James's Palace Stakes, Ascot
Although the long-time favourite for the Epsom Derby, stamina doubts meant that Frankel did not tackle racing's Blue Riband. Instead, his next start was in the St. James's Palace Stakes at Royal Ascot on 14th June. In the race itself the pacemaker, Rerouted, set a break-neck pace and opened up a sizeable lead by half-way. Frankel was then asked by jockey Tom Queally to go after the leader and passed Rerouted to open up a lead of six lengths on the rest of the field with two furlongs to go. However, in the final furlongs the 20-1 shot Zoffany began to gain ground and Frankel just held on by 3/4 of a length to win.
Following the race, Queally received criticism from many quarters for what many saw as an ill-judged ride, since the jockey's mid-race move looked to have taken too much of a toll on his horse. Despite claims from Cecil and Queally that the horse was merely idling in front, many observers saw the race as the first time that Frankel looked vulnerable.

Sussex Stakes, Goodwood
Billed as "The Duel on the Downs" and a race viewed by many as the most eagerly awaited confrontation in years, Frankel scored a five-length victory over the world's top-rated older miler and five-time consecutive Group 1 winner Canford Cliffs on 27 July at Goodwood. In a moderately-run and tactical affair, Frankel made all the running to beat the horse who had accounted for three-time Breeders' Cup Mile winner Goldikova in his previous race.
Frankel received many accolades following his victory. His trainer Sir Henry Cecil said: "I think it's a facetious thing to say, but he's the best I've ever seen. I suppose the only ones I could compare would be Shergar and Blushing Groom at his best. I can't go back to the days of Tudor Minstrel and match races, but he's the best in my lifetime." During the interview Cecil also said that he had expected the colt to win easily, despite having ample respect for his horse's rival Canford Cliffs.
After the victory, the British Horseracing Authority raised Frankel's official rating from 130 (tied with Australian horse Black Caviar) to 135, making him officially the best racehorse in the world.
Following Frankel's win in the race, rumours abounded that Cecil would aim him at the Juddmonte International Stakes at York in mid-August. The race, over a mile and a quarter, would be the first time Frankel would contest a race over that distance. However, after careful consideration with owner Prince Khalid Abdulla, Cecil announced the following day that the colt would have only one more race in 2011, in the Queen Elizabeth II Stakes at Ascot's inaugural QIPCO British Champions Day on October 15.

Queen Elizabeth II Stakes, Ascot
Despite his reputation, Frankel did not scare off the opposition on October 15th as a strong eight-horse field was declared for Queen Elizabeth II Stakes. The runners included Excelebration, the Prix du Moulin de Longchamp winner, the Coronation Stakes and Prix Jacques Le Marois winner Immortal Verse and Dick Turpin, who won the Premio Vittorio di Capua earlier in the year. The previous year's winner of the Queen Elizabeth II Stakes, the Godolphin-trained Poet's Voice, also featured.
Frankel won by 4 lengths with Group 1 winners Excelebration and Immortal Verse filling the minor placings. It was the third time that Excelebration had succumbed to the Cecil-trained star.
He was given a Timeform rating of 143 in this race, moving into sole third in the Timeform all-time flat rating list.

2012: Four-Year-Old Season
While Frankel has contested races no further than a mile (eight furlongs) to date, his four-year-old campaign is expected to comprise some of the premier ten-furlong middle distance races in the calendar. Teddy Grimthorpe, racing manager to Prince Khalid Abdulla, has mentioned "the Eclipse and the Juddmonte" as potential targets later in the season, while it is possible that the horse may contest the Breeders' Cup Mile or Classic at Santa Anita in 2012 as a final career start.
Trainer Sir Henry Cecil said in October 2011 that he believed his charge would improve for another winter and that the horse "will get a mile and a quarter very easily". The Newmarket trainer added: "He's really beginning to grow up. You're going to see a better horse next year and he's pretty good as he is."

Injury Scare
Reports surfaced that Frankel had suffered an injury to his off-fore on Wednesday 11 April while working on Racecourse Side in Newmarket. A statement from Juddmonte, the operation of Frankel's owner Khalid Abdulla, read: "He is such an extravagant mover that he hit himself. At this stage the injury looks superficial but he will be kept monitored over the next few days."
Frankel had a scan which came up clear but, due to filling in the injury, a scan for the following week was arranged to arrive at a more definitive diagnosis once that filling had dissipated.
Before this second scan, rumours sparked by TV reports during coverage of the Grand National at Aintree spread that Frankel had been retired. This claim was rejected by Grimthorpe and, later, the second scan showed no damage.
On 25 April, Frankel worked for the first time after incurring his injury and, on 5 May, Frankel took part in a public exercise gallop at Newmarket. He pulled clear of his work companions Bullet Train and Jet Away in the closing stages of the workout in a style which pleased Cecil.

Lockinge Stakes, Newbury
On 19 May, Frankel made his first appearance of the year in the Group 1 Lockinge Stakes at Newbury. Amongst his five rivals was old rival Excelebration, who had since moved to the Ballydoyle stable of Aidan O'Brien from Marco Botti's yard in Newmarket and, as an easy winner of the Gladness Stakes the previous month, had the advantage of race fitness. However, Frankel - always ahead of Excelebration in the race - tracked his pacemaker Bullet Train before moving into the lead two furlongs from the finish, pulling clear to win by five lengths.
Sussex Stakes, Goodwood
On 1 August Frankel repeated his previous year's victory in the Sussex Stakes at Goodwood. Starting at odds of 1/20 against only three rivals, he won by six lengths from Farhh. With this victory, Frankel equalled the record for consecutive European Group 1 victories (seven in a row) set by Rock of Gibraltar, and also became the first horse to win the Sussex Stakes twice.
After the race, his Jockey Tom Queally said: "Every moment spent on Frankel's back is a special moment. He is amazing and had all the others cooked at halfway. It was a nice prep for his next race. He is a class apart from any other horse around and does it all very easily... Turning into the straight, I slipped him an inch of rein. You don't have to do much on him. He's so competitive and he has a will to win like no other horse I've ridden."
Lord Grimthorpe, the racing manager to the horse's owner, Khalid Abdulla, said: "There are two obvious races for him, the Juddmonte and the Champion Stakes [Ascot, Oct 20], but there is a gap of nearly two months between them, and Henry may decide to give him a race in between, possibly something like the Prix du Moulin [Longchamp, Sept 16]."

Queen Anne Stakes, Ascot
Cecil has said: "Over the last two seasons Frankel has come on a good deal from his first race and hopefully he will do the same this season. He has strengthened and grown up a great deal mentally. All being well his next start will be at Ascot in either the Queen Anne or the Prince of Wales, the former being my first preference at the moment, but we will see."
On 19 June Frankel started at odds of 1/10 for the Queen Anne Stakes at Royal Ascot against a field which included Excelebration, Strong Suit and Worthadd. He took the lead three furlongs from the finish and drew steadily clear to win by eleven lengths from Excelebration.
Juddmonte International Stakes, York
On 22 August, Frankel won the Juddmonte International Stakes at York. This race was over 10 furlongs and was the first time that he raced over more than a mile. Consequently there was much anticipation as to whether he would stay the extra distance. Starting at odds of 1/10 against eight rivals, he easily won by seven lengths from Farhh, who was a nose ahead of four-time Group 1 winner St Nicholas Abbey in third. This was his eighth consecutive European Group 1 victory, breaking the previous record of seven in a row set by Rock of Gibraltar. After the race trainer Sir Henry Cecil said "It's fantastic. It's great for Yorkshire and they deserved to see him." He was attending the racecourse after missing Frankel's previous win due to ill health and said the win made him feel "twenty years better.".
Writing a few days after the race, Marcus Armytage said: "Forget ratings, handicappers' assessments or any other method by which you measure one racehorse against another, it is unlikely that the world in either this or any previous generation has ever seen a better racehorse than Frankel... What makes him unique is his ability to go a top class sprinter's pace over distance... he is a lightning strike of genetics which may not be repeated for 100 years."

Frankel in the winners' enclosure at Ascot after winning his final race, the Champion Stakes
Frankel was expected to have only one more race in his career, and to stand as a stallion from 2013. Having demonstrated at York his ability comfortably to stay ten furlongs, there was speculation that that there might be a change to his programme, with his final race being the twelve furlong (mile and a half) Prix de l'Arc de Triomphe at Longchamp in October. However on 31st August Lord Grimthorpe said that Frankel's next race would be the Champion Stakes.

Champion Stakes, Ascot
On 20 October Frankel won the Champion Stakes at Ascot over ten furlongs. The ground was more testing than he had faced hitherto, being soft, heavy in places, and the colt's participation had been in doubt until Lord Grimthorpe walked the course on the morning of the race and gave the go ahead. In spite of losing several lengths at the start he beat the previous year's victor Cirrus des Aigles by one and three-quarter lengths, with Nathaniel a further two and a half lengths back in third. He had attracted a sell-out crowd of 32,000, who cheered him home from three furlongs out. After the race Prince Khalid Abdullah confirmed that the horse would be retired to stud.
Corine Barande-Barbe, trainer of Cirrus des Aigles, said after the race: "It was a great day and it was like a victory to make Frankel gallop." Teddy Grimthorpe commented: "The way everyone has reacted to Frankel and Henry has been one of the great sporting stories of the year if not for many years. It was just brilliant and totally deserved." Tom Queally said: "You never see an F1 car win on anything but tarmac but for him to win on ground like that shows how special he is. There was a bigger crowd at Royal Ascot but this was more intense. I don't know what I would have done if he didn't win." Sir Henry Cecil commented: "He's the best I've ever had, the best I've ever seen. I'd be very surprised if there's ever been anything better."